mostly used in Bridges, Steel structures, Ships, Large diameter pipes, Storage tanks, Boilers, Railway wagons, Pressure vessels, Weatherproof steel plates for the construction of railcars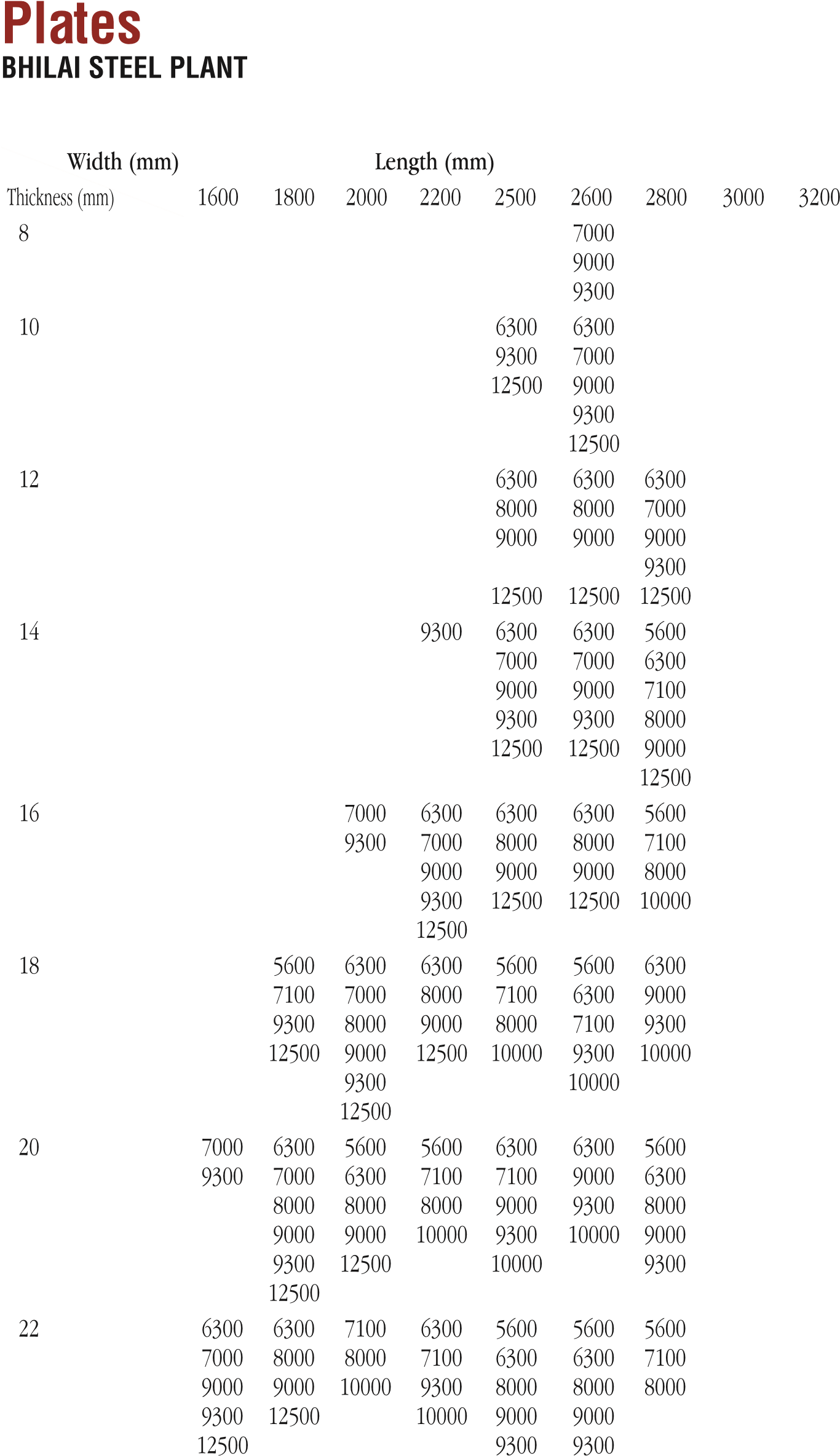 Mostly used in Bridges, Steel structures, Ships, Large diameter pipes, Storage tanks, Boilers, Railway wagons, Pressure vessels, Weatherproof steel plates for the construction of railcars
Note:
1) Plates above 40mm will be flame cut.
2) Plates up to 13.5 metre length can be rolled from slabs of new slab caster.
CHEQUERED PLATES
Chequered plate is a significant form of Steel, that is used as a raw material for various small to large scale industries. This form of plates is wear resistant and offers certified hardness. Chequered plates cater to various wear resistant applications. We also offer diverse thickness and sizes as per the customer's requirements. Usually, chequered plate flooring is suggested as road in industries to reduce the chances of skidding.
Benefits
Corrosion resistant
High skid resistance
Bright clean surface
Sturdy construction
Weather resistant
Material Specifications
Material – Mild Steel
Thickness – 2.8mm TO 10mm
Width – 1250mm TO 5000/6000/6300mm
Length – Can be cut to sheets according to the requirement
Applications
Construction and cement firms
Structural applications
Industrial flooring
Automobile industry
Gratings over closed gutter
Grades & Specifications
| | |
| --- | --- |
| ASTM (USA) | IS (INDIA) |
| A 36 | IS 2062: E250 Gr A/ B/ C |
| A786 | IS 3502: Fe 410 |
Hot Rolled Coils
The slabs are heated in a natural gas fired furnace before processing it through a hot rolling mill. This process reduces the thickness. Once it is cooled, the plate is cut into desired length and the coil is further processed through the cold rolling mills. We supply a range of Hot Rolled Coils with diverse specifications. They fulfil a wide range of market needs like deep drawing, bending, laser cutting, welding and forming. We offer the Hot Rolled Coils in the form of coils and cut to length sheets.
Benefits
Excellent weldability
Consistency in quality
Excellent cold forming and deep drawing properties
Corrosion resistant
Cost effective
Material Specifications
Material – Mild Carbon Steel
Thickness – 1.6mm TO 20mm
Width – 1250mm TO 2000mm
Length – Can be cut to sheets according to the requirement
Commercial steel like steel commercial tubes, general fabrications, steel sheets and corrugated steel.
Structural steel for electrical industry.
For sour and non-sour applications in oil and gas pipelines as well as water pipelines.
Gas cylinders and presser vessel tanks.
Corton steel can be used for atmosphere corrosion applications like open steel containers.
The Chequered form of Hot Rolled Coils can be used for Anti-slip applications like floors.
Cold Rolled Coils
The cold rolled coils are manufactured from the hot rolled coils. The hot rolled coils are cleaned chemically and processed further in cold reduction mills, where the material is cooled (at room temperature) followed by annealing and/or tempers rolling. This process will produce steel with closer dimensional tolerances and a wider range of surface finishes. Cold rolling increases strength, enhances the surface finish and offers uniform thickness. To prevent the cold rolled coils from rust, they are usually coated with thin layer of oil. Further coating of Zinc-Aluminium alloy or galvanization on the metal can be processed.
Benefits
Greater dimensional accuracy
Increased tensile strength and yield
Eliminates further costly thermal treatments
Low alloy grades
Easy formability
High quality and consistent surface, finish and texture
Material Specifications
Material – Mild Steel
Thickness – 0.5mm TO 3.15mm
Width – 800mm TO 1600mm
Length – Can be cut to sheets according to requirement
Tube making
Shelving
Automotive parts
Containers and drums
White goods and furniture
Flooring systems
Precision tubes
Packaging Industry
Boiler Quality Plates
The boiler quality and pressure vessel steel plates are primarily intended for use in welded pressure vessels where notch toughness is important. The maximum thickness of plates is primarily limited only by the capacity of the composition to meet the specified mechanical property requirements. The steel is killed and conforms to fine austenitic grain size requirements. Generally, steel plates are hot / cold formed are moulded to desired shape for major boilers to withstand high temperature, pressure and adverse corrosive environments.
We supply Boiler Quality Plates only of superior quality that can hold the internal pressure in valves and boilers.
Benefits
High strength
Good low-temperature toughness
High corrosion resistance
High resistance to HIC, SSCC and embrittlement
High creep resistance
Durable
Material Specifications
Material – Quenched and Tempered Alloy Steels
Thickness – 6mm TO 150mm
Width – 2000mm TO 3500mm
Length – UP TO 14000mm
Power Plants
Process Industries
Refineries
Coal gasifiers
Petrochemical manufacturing sector
Shipbuilding industries
Pressure vessels, boilers, gas turbines
Spheres, compressors and heat exchangers
Storage tanks manufacturing
Skid mounted equipments for oil and gas industries